Custom Market Reports
There are many factors that impact the value of a home, the most relevant being the size, condition, location, and age. But a home's value is also impacted by the prices that similar properties in the community sell for.
If you're thinking about purchasing or selling a home, or just interested in market values in any of the communities along 30A, you can take a look at current market reports for a few of the 30A neighborhoods below, or create your own custom report for the neighborhood of your choice. You can customize the report to include a specific location or subdivision, the number of beds / baths, square footage, the year built, and a number of other factors depending on your specific needs. Further, you can save your customized report and have it automatically delivered directly to you via email on a monthly basis.
Here is an example of a report showing active, under contract, and sold properties: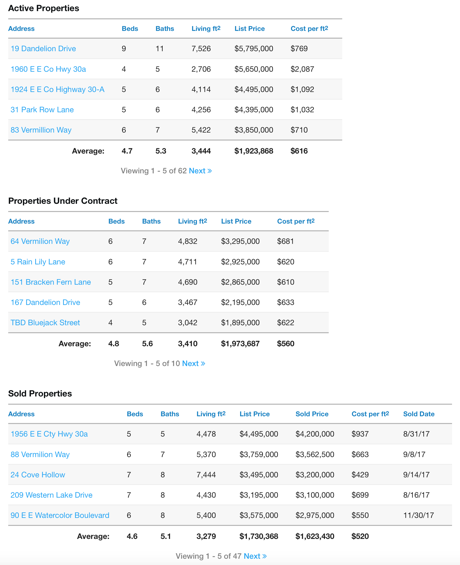 Pre-Defined Market Reports
Here are a few pre-defined Market Reports for some of the communities along 30A:
Create Your Own Market Report
To create your own customized Market Report for any of the 30A communities, use our custom Market Report search.